Play to win with SHL Virtual Solution
Unlock and maximize the potential of your people with our innovative Virtual Solutions suite, optimized for a new world where face-to-face is no longer an option.

Highly Effective, Flexible and Made for Today's World
Unlock your people's potential with our innovative Virtual Solutions suite, optimized for our new reality where face-to-face is no longer an option. Our portfolio of products including video and coding interviews, and our virtual assessment and development center platform allow businesses to stay connected throughout their Talent Acquisition and Talent Management programs.
SHL Video Interview
SHL Video Interview is an AI-scored online video assessment tool. Assess more candidates in less time, and reduce the speed of hire by 80%. Get accurate interview analytics and provide an engaging experience for candidates.
Take Guesswork Out of Hiring
100% Cloud Based - Highly scalable assessment platform, deployable anywhere, anytime, and available in over a dozen languages
Mobile Ready - A device-agnostic solution, available on mobile phones (browser and app), tablets and computers
Automated Proctoring - Data-driven applicant analysis using webcams, browser controls, keystroke analysis and more
Make Better Hiring Decisions with AI-Scored Video Analytics
Get AI recommendations on body language, voice emotion, language proficiency, and personality.
Administer questions in video, audio or text format. Select the dispensing method to deliver the questions accordingly.
Create an unparalleled brand experience. Enjoy the benefits of face-to-face interviews with additional deep unbiased insights.
Enable collaboration among multiple interviewers. Share the copy of the recorded interview with multiple panelists for evaluation.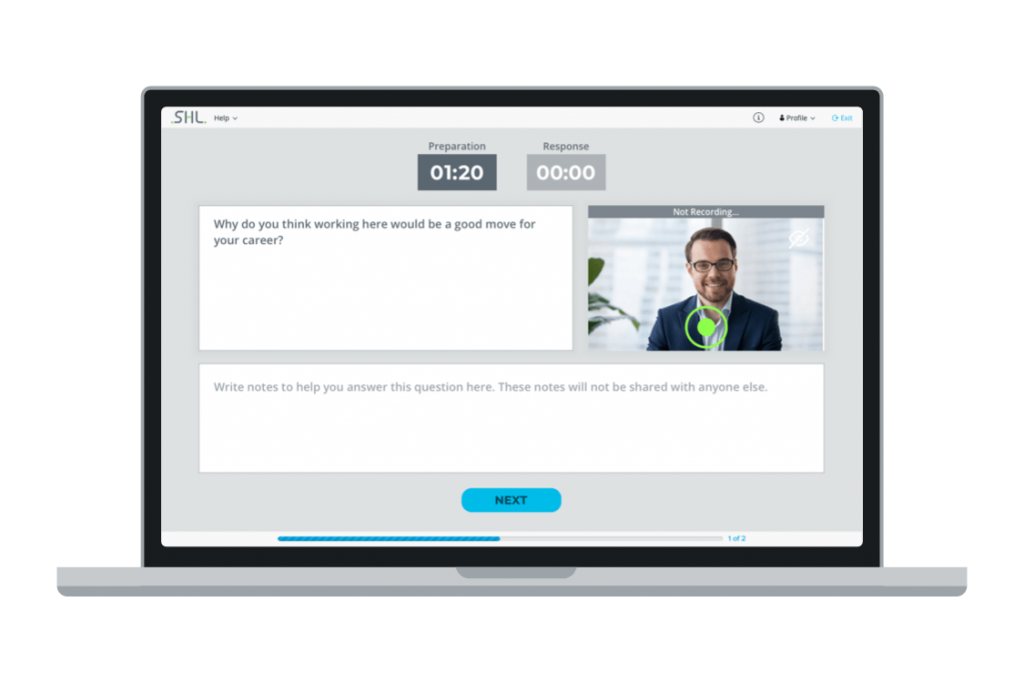 SHL Live Video Interview
SHL Live Video interviews are a new, engaging and convenient way of conducting face-to-face interviews remotely. Deliver a live interview experience for your candidate in real-time from the comfort of your desk or on-the-go and get deeper insight into fit for your organization.
Maximized Experience with Comprehensive Video Interview Software
Live Video Interviews - Real-time, comprehensive & streamlined video interviews on-the-go using multiple devices. Reliably interview candidates across a multitude of job roles.
End-to-End Interview Management - SHL Live Video Interview is a fully loaded interview management platform with an intuitive interface and question library.
Comprehensive Evaluation - Select questions tagged to various competencies from an extensive library of questions available in multiple languages or add your own questions.
Collaborative Hiring - Review and rate candidates using scientifically proven processes and collaborate with other evaluators by inviting them on-the-fly and sharing interview recordings.
Real-Time Video Interviews That Engage Your Candidates
Interview Anytime, Anywhere. Conduct interviews across multiple devices and locations.
Broaden Talent Pools. Scale reach by interviewing candidates across the globe.
Engaging Candidate Experience. Candidates take interviews at the time convenient for them.
Streamline Interviews. Pre-define questions and evaluation parameters.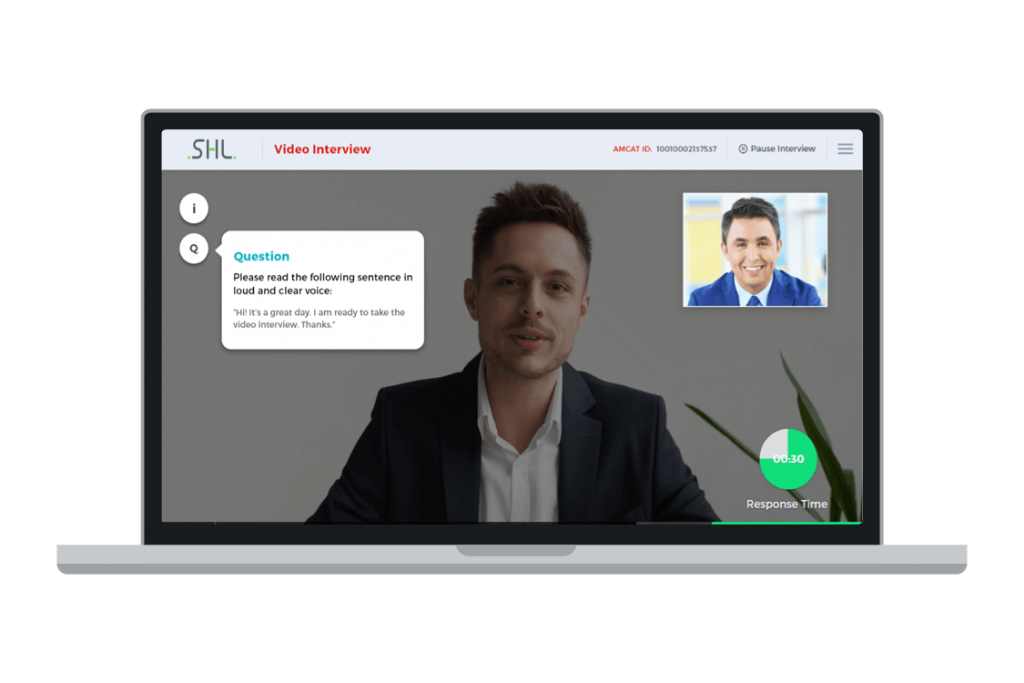 SHL Coding Interview
SHL Coding Interview is more than just an online coding test, it is an AI-powered online coding interview for hiring. Coding Interview provides a familiar coding environment, AI-assisted insights on candidate's code quality and state of mind, and full interview record and replay.
An Immersive Experience with Online Coding Interviews
Interact with candidates in real-time. Conduct live audio and video interviews with structured evaluation. Use live chat, audio, and whiteboarding to engage candidates and provide direction. Add feedback and comments during the interview.
On-the-fly AI-powered video analytics. AI reliably scores the candidate's facial expressions, demeanor, and state-of-mind and creates a detailed report. Fast and easy to evaluate whether a candidate is a great fit.
Capture interviewer feedback. Interviewers can conveniently annotate various aspects of the interview including the code, whiteboard, discussion and make it available for future reference.
Manage Coding Interviews Effortlessly
Intelligent tools such as auto-error detection, access to large question bank, with in-built hints - With a collaborative code editor, large question bank, hints, inbuilt-intelligence to analyze code as it is being written, auto-identification of stylistic errors, and uncompilable code grading – interviewers are enabled to make fast and right hiring decisions.
Full playback of the entire interview - With every aspect of the interview recorded, keystroke-by-keystroke code replay, one-click access to full interview replay with audio, video, code, and whiteboard interactions – enables interviewers to save the interview for future reference.
Code in a collaborative environment, inspect collaboratively - Use the solution to schedule programming challenges with multiple candidates working together to solve a problem and multiple evaluators assess the candidates in parallel.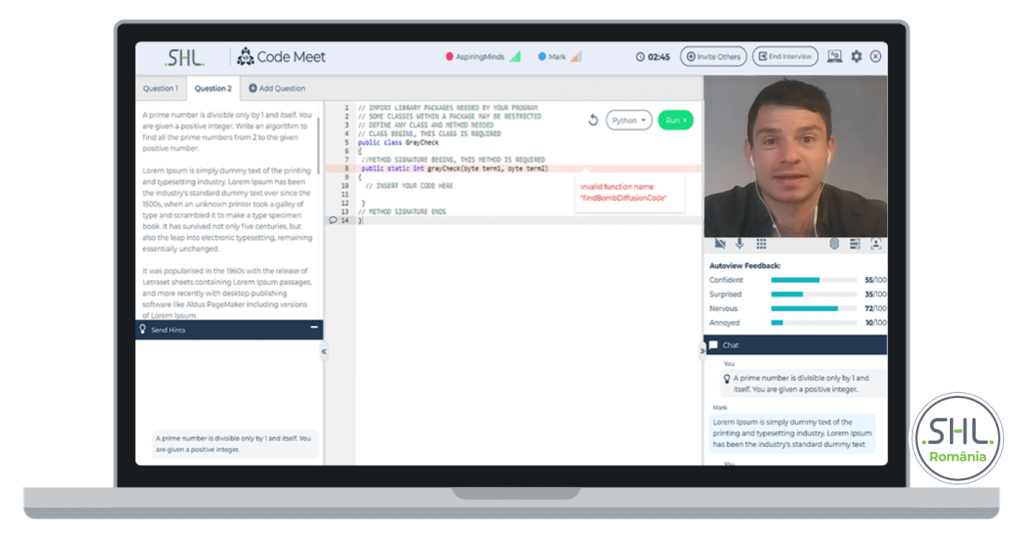 SHL Virtual Assessment & Development Center
Traditional assessment and development centers don't always put people first. Long flights for candidates, scheduling nightmares for assessors and expensive logistics hit your wallet and the planet. It can also be an admin-heavy and slow way to get results.
SHL's Virtual Assessment & Development Center always puts your assessors in the same room as candidates and employees – even if they're on the other side of the world.
This is a game-changer: a greener, virtual solution to the challenge of finding the talent that might one day lead your business.
Free your assessors to assess. And help all of your people, not just a few, shine in a comfortable, virtual space. No more awkward waiting room moments or jet lag.
Power to your people. Let them show their ability in a lower pressure virtual space, with relevant, real-life challenges and face-to-face live assessments, from anywhere in the world.
Better for your assessors. Forget paperwork or logistical headaches, assessors can now easily shape the experience to deliver real business outcomes.
Best for your business. A streamlined digital experience. Up and running in weeks, for as many people as you need. A greener solution that saves time, your cash—and the planet.
Uncover talent, anywhere, fast. Simply the quickest way to identify potential we've ever developed.
Free your assessors to do what they do best. A streamlined, configurable digital process that's completely people-focused.
A more inclusive, greener solution. Assessments when and where they work for the candidate, with no more needless flights.